Plate Cutter
Plate Cutter KPS-SE DIGITAL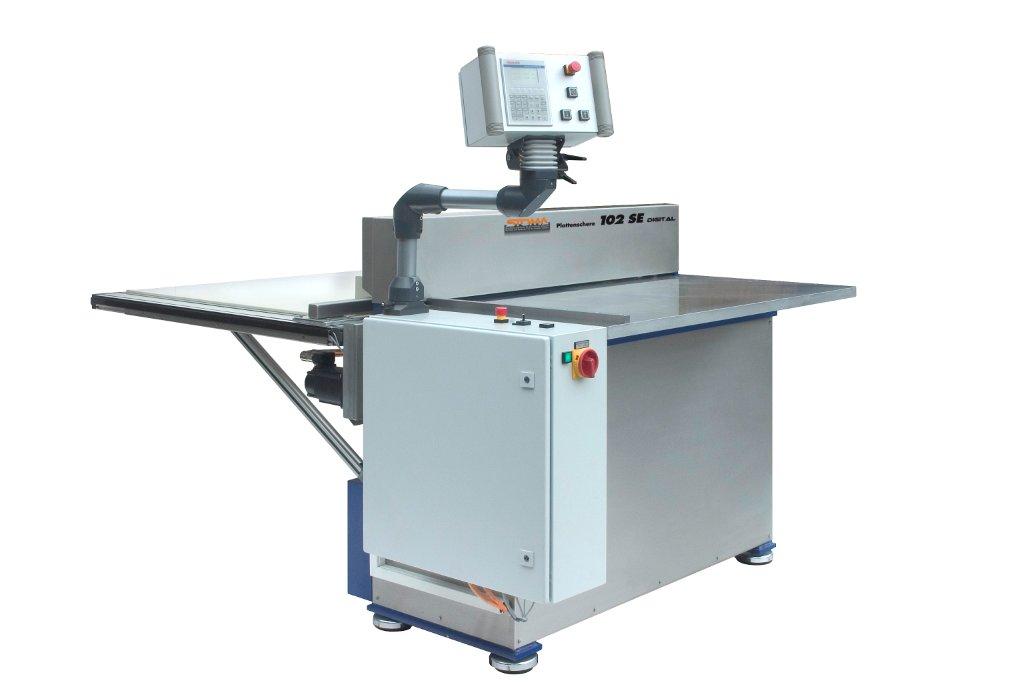 This plate cutter has two extra strong cutters made of high alloy special steel. The upper cutter is moved downwards with an electric eccentric operation, the lower cutter remains stationary. An adjustable servo edge guide installed on both sides enables angular separation of plates.
The exact cutting process is documented with an integrated camera.
| | |
| --- | --- |
| Type of machine | max. width |
| STOMA Plate cutter KPS 085-SE DIGITAL | 850 mm |
| STOMA Plate cutter KPS 102-SE DIGITAL | 1020 mm |
| STOMA Plate cutter KPS 130-SE DIGITAL | 1250 mm |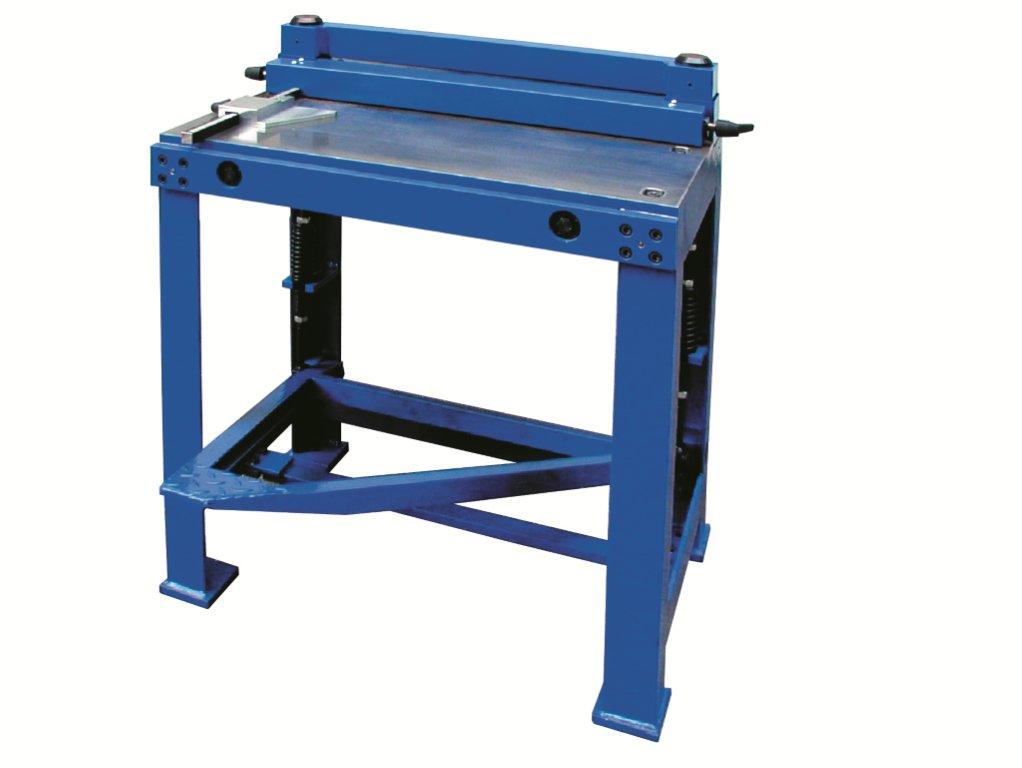 The plate cutter is equipped with two extra strong knifes made of special alloyed steel. The bottom knife is fixed, while the upper knife can be moved with a cam drive downwards. A stop which is fixed at the side renders a rectangular folding separating of the plates. offs.
Machine stand, table and knife beam are made as an extensive dimensioned welded construction. The storage of the knife beams is in high- quality, without backlash, circular guides made of bronze. All storage places are continuous lubricated and maintenance-free. Material coating and knife exposure are for upper and bottom-knife is very accurate adapted. The integrated desk adjustment renders a perfect adjustment of the cut column. In the desk plate a height compensation renders a height balance for the storage of the bottom knife a perfect re-grinding of the knife. The automatic hold-down will be done automatically while releasing the cutting and guarantees a dimensional stability of the cut-offs. The plate cutter is standard equipped with an adjustable front stop with special sliding calliper division, which guarantees a precise dimension stability of the cut-offs. The cut movement of the upper knife beam is done by a worm gear motor, which transfers the cutting pressure over maintenance–free stored cam drive to the pull anchor.
Type
KPS
050 T
KPS
65 SE
KPS
85 SE
KPS
102 SE
KPS
102 SE
Digital
KPS
130 SE
KPS
130 SE
Digital
Width (mm)
454
1160
1360
1530
1500
1810
2250
Height (mm)
295
980
980
980
1600
980
1600
Height desk (mm)
840
840
840
840
840
840
Cutting width (mm)
500
650
850
1020
1020
1300
1300
Elec.
driving power (KW)
1,5
1,5
2,2
2,2
2,2
2,2
Time of
cutting progress (s)
2,5
2,5
2,5
2,5
2,5
2,5
Net weight (kg)
62
290
320
380
420
460
500
Further Plate Cutter Types KPS-T and KPS-S available on request.