Copymat for Magnesium and Zinc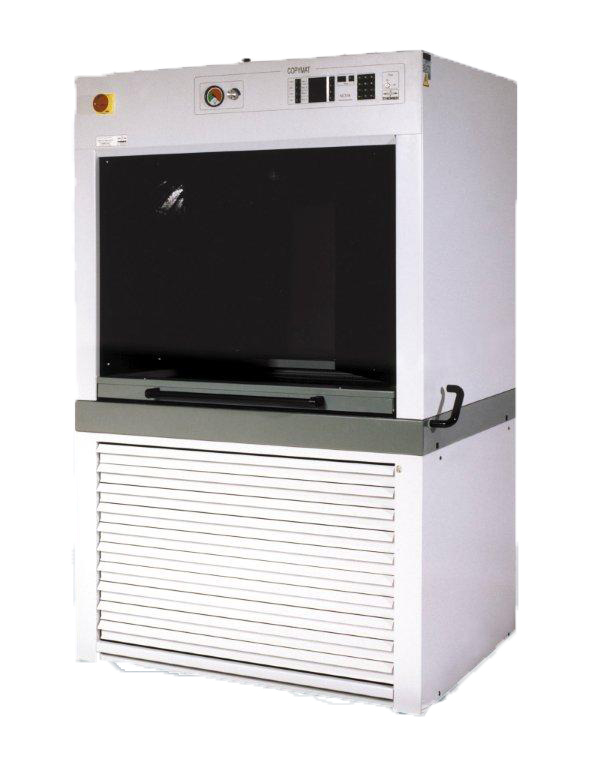 This copy unit is fitted with modern electronics, an actual copy lamp (Halogenid) and stable mechanics.

The KR-computer checks the complete copy process by using a special developed software by Theimer for graphicle plants. The computer has more than 72 programs and checks the exposure time of the photocell.

The copy unit is especially made for manufacturing plates between 0,5 and 10,00 mm.
Features
Automatic doors for optimal security of the staff

KR-Computer with 72 programs and photocell

Economic unit for high pretensions

THEIMOSPEED - vacuum system for optimal results

Nova copy lamp with three levels

For universal use and absolutely reliable
Format
64 x 75 cm
70 x 90 cm
THEIMOSPEED
- Vacuumsystem
Nova 2,5 kW
x
x
x
Nova 3,0 kW
x
x
x
Nova 5,0 kW
x
x
x
| | |
| --- | --- |
| Plate formats magnesium | |
| 457 x 609 x 1,00 mm | 609 x 914 x 1,75 mm |
| 650 x 500 x 1,75 mm | 609 x 914 x 2,00 mm |
| 650 x 500 x 2,00 mm | 609 x 914 x 3,00 mm |
| 650 x 500 x 3,00 mm | 609 x 914 x 4,00 mm |
| 650 x 500 x 4,00 mm | 609 x 914 x 5,00 mm |
| 650 x 500 x 5,00 mm | 609 x 914 x 7,00 mm |
| 650 x 500 x 7,00 mm | 762 x 1016 x 7,00 mm |