Hot Stamping Machines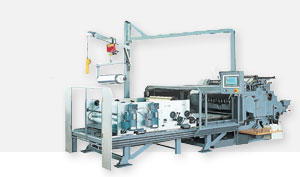 The machines are based on the well-proven Heidelberg Cylinder. All machines have been generally overhauled and expanded with the well-proven special stamping module which is under continuous development.
Increase in performance
Roll diameter up to 320 mm or 4500 wound meters. This means up to 15 times fewer roll changes, substantially reducing the machine downtime. Due to the unique foil attachment set and the unequalled take-off arrangement, roll widths up to 900 mm can be easily stamped without forming creases. One-inch or threeinch cores can be used.
Constant foil tension ensures that no readjustment of the foil is necessary. Consequently, it is now possible to process large roll diameters without stopping the machine.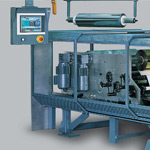 An optimised foil-economy programme minimises the foil consumption with only a few entries by the operator. The stamping area has been increased by 7% compared to existing systems. This does not just facilitate larger stamping formats, but rather with a label form an additional range of benefi ts arises which increases production and not just in the stamping field. Using a removable honeycomb plate in aluminium, jobs can be preassembled off the machine to speed up the change of jobs.
Technical Data
MR 52
MR 77
MR 82
MR 90
Max. sheet format (mm)
380 x 520
560 x 770
570 x 820
640 x 900
Min. sheet format (mm)
200 x 150
210 x 280
210 x 280
290 x 400
Max. sheet thickness (mm)
0,7
0,75
0,7
0,75
Stamping format max. (mm)
380 x 518
540 x 768
570 x 815
620 x 840
Stamping-free
gripper margin (mm)
8-10
8-10
8-10
8-10
Heating zones
2
4
4
4
Cylinder diameter (mm)
380
540
560
540
Covering tinkess (mm)
1,5
1,5
1,5
1,5
Height of machine pile and prepile (mm)
340
340
340
340
Height of delivery pile (mm)
540
540
540
510
Length of machine (mm)
4000
5500
5500
4670
Width of machine (mm)
2000
2000
2300
2450
Height of machine (mm)
2000
2000
1900
1650
Siting area of base frame (mm)
16000 x 1200
1600 x 1200
1600 x 1200
1800 x 1500
Adjustment range (mm)
-0,3... + 0,3
-0,3... + 0,3
Weight of machine (kg)
4500
5000
6000
7500
Width of imprinting foil rolls max. (mm)
518
769
818
898
Foil roll diameter max. (mm)
320 (=4500 lfm)
320 (=4500 lfm)
320 (=4500 lfm)
320 (=4500 lfm)
Take-off rolls and programmes
2
3
3
3
Height of sttamping tool (mm)
7
7
6,35 oder 7
7
Continuosly adjustable speed (sheets/h)
>3000
>3000
4000
1000-3000
Required power supply
25kW, 380 - 415 V
3 phase + neutral + earth
25kW, 380 - 415 V
3 phase + neutral + earth
25kW, 380 - 415 V
3 phase + neutral + earth
25kW, 380 - 415 V
3 phase + neutral + earth
Drive (kW)
10
10
10
10
Heating and foil take-off (kW)
15
15
15
15
Diagnostics Modem
ja
ja
ja
ja
Foil feeds
As standard 3
As standard 3
As standard 3
As standard 3
Foil feed accuiracy (mm)
0,1
0,1
0,1
0,1
Max. temperature (°C)
230
230
230
230