System Prof. Dr. Mitscherlich
(Standards)
Size I
Size II
Size III
Upper part
diameter
height
capacity
20 cm
21 cm
6,2 ltr.
25 cm
31 cm
14,5 ltr.
31 cm
34,5 cm
24 ltr.
Small plate
diameter
14,5 cm
14,5 cm
14,5 cm
Lower Part
diameter
height
24 cm
7 cm
30 cm
7,5 cm
32 cm
11 cm
Vessel holder
diameter
height
29 x 27 cm
14,5 cm
35 x 37 cm
16 cm
40 x 37 cm
22 cm
Plant holder
diameter
upper diameter
height
22,5 cm
18,5 cm
80 cm
27,5 cm
23 cm
80 cm
34 cm
30 cm
80 cm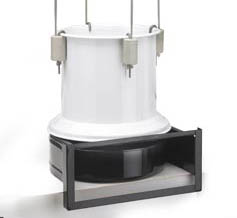 Special Measurements:
We also make plant holders from galvanized wires that fit our culture vessels and can be placed on the upper part of such vessels.
These plant holders are made from wires of 3,2 mm to 3,8 mm thickness and have the following measurements:
Description: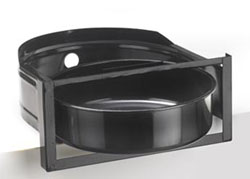 The Mitscherlich Cultivation Vessel is made of porcelain enamelled steel plate and consist of the following parts:
(a) the upper part, which is the experimental vessel proper, and into which the soil is filled; enamelled with white porcelain.
(b) the small plate, which is inserted into the upper part with the curved side up in order to prevent the earth from falling out of the hole of water outlet; black porcelain-enamelled. This is not visible in the illustration.
(c) the lower part, which collects excess water; black porcelain-enamelled.
(d) the vessel holder, which supports the upper part so that the lower part can readily be pulled out like a drawer. This part is ground porcelain-enamelled.
(e) a stainless steel holder was drafted for the Mitscherlich pots, which can be disassembled completely or folded up as a whole.